The 5 Non-Unique Sites are Available in Every Starter Deck
Collecting Information
If you are looking to complete your set, you will need to trade for these sites or you will need to locate an Imajica CCG 120-Card Starter. Each 60 card starter deck includes these 5 Non-Unique Sites. That means you get two sets in the 120-card starter. This was done to ensure that every starter deck is valid by containing at least one Site from each Dominion. To clarify, these 5 Sites are NOT available in the 15-card booster packs.
Using the Non-Unique Sites in Game Play
If you are a player, these Sites are a fast way to seize Sites. While they are not as powerful once secured, they have low Resistance in order to secure them quickly and, the best part… they are non-unique. That means you are able put multiples of these Sites in your deck to ensure you have enough Sites. If your opponent happens to secure one of the Sites you played, no problem. You can play it again and seize it.
Be mindful if you are using these Sites in the tournament format since they have low Resistance values. The Resistance amount of your secured sites are totaled and recorded in case of a tie. From the Tournament Rules:
"At the end of each round, the player adds the total Resistance of all controlled Sites, and reports this value to the judge. This value is added to the previous total Resistances from other rounds.
The value has no impact on the tournament, unless ties must be broken in determining semifinalists."
Here are the Sites:
1st Dominion Site: Eurhetemic Ruins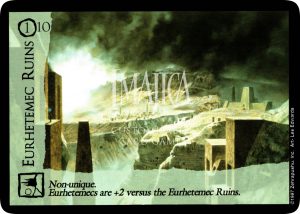 2nd Dominion Site: Likerish Street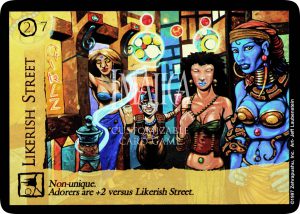 3rd Dominion Site: Ched Lo Ched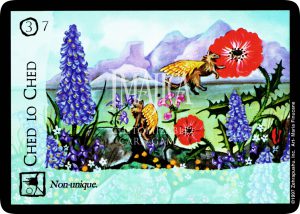 4th Dominion Site: Slew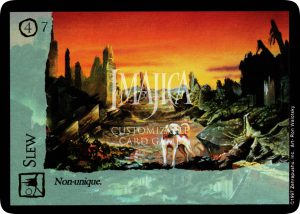 5th Dominion Site: Hampstead Heath